Book displays are fun at anytime of the year. But October was always a great month for Teen book displays. I was lucky at Grapevine Public Library to have multiple locations to do teen/YA displays. During October we would do a Teentober display that had teen favorites. I would leave out a box during August and September where teens could write their favorite books and use that to fill the display.
This really gave them a sense of the library being a space for them because they were able to contribute and essentially pick what books were going on this display. I wasn't the one who came up with Teentober, American Library Association originally created it and there is usually a nice sign that can be used from their website and sometimes cool posters too.
Another display that was always a hit during October, was mystery reads.  A good murder mystery book was very popular among the teens. One year I had the teens help me "paint" a large piece of white paper with handprints and blood smears to go on the display. I wish I could find the picture of it. It was similar to the picture below.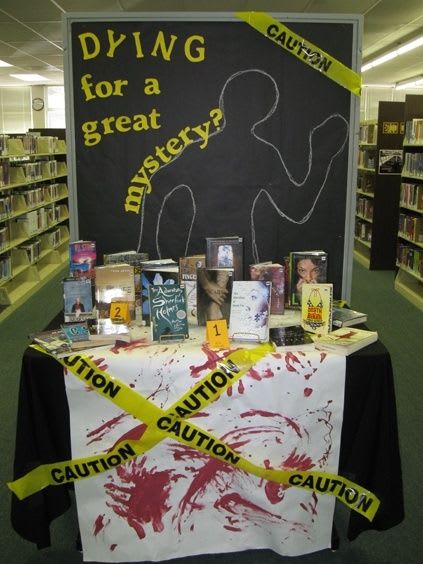 Another favorite display that my teens loved at anytime of year was blind date with a book. Where the books were wrapped in paper and a description was written on the front, but they didn't know what they were getting. They had a lot of fun with that. The teen volunteers always like helping wrap the books and write or color a description on the front. I wouldn't let them do all of them, so there were ones that they didn't know what they were and could participate in on the fun.
There are so many great displays for teens out there, I hope you involve your teens in coming up with new ideas.