One of my current obsessions is listening to graphic novel audiobooks. 
In 2020 when Jarrett J. Krosoczka's Hey Kiddo won an Odyssey Award, I admit I was a bit flummoxed. I loved the book in print, but I was immediately skeptical. A graphic novel on audio? How does that work? Wouldn't you miss out on so much if you couldn't see Krosoczka's amazing art? Can you really listen to a graphic novel?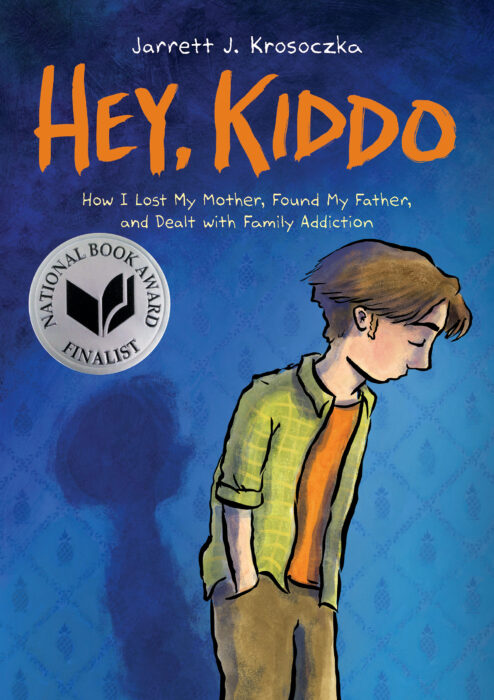 Turns out you can!
I listened to the award presentation in which Krosoczka and others involved in the adaptation process discussed choosing narrators, adapting the text, and creating a soundscape for the story. I was shocked to hear just what painstaking care was put into adapting this text. For example, during a scene in which a character walks by wearing corduroy pants, the creators literally bought a pair or cords and rubbed them together so the effect can be heard by listeners. I was so impressed by the attention to detail, and pleased to learn just how thoughtfully produced an audiobook graphic novel could be.
I immediately checked out Hey Kiddo on audio, listened to it, and was absolutely blown away. I'd been a long time audiobook devotee, yet I'd never encountered music, sound effects, or a full cast of narrators in dialogue with one another. I was hooked.
I'm currently serving the second year of a two year stint on ALSC's Notable Children's Recordings committee. Suddenly I'm listening to lots of graphic novel audiobook adaptations, and I continue to find myself surprised and delighted with how incredible these audiobooks are. They are adapted creatively, narration is usually balanced well with sound effects and music, and there is often a full cast to help bring characters to life. Another bonus is that these adaptations make incredible stories accessible to more readers. I've found that neither the print or the audiobook are necessarily superior, but rather both versions are usually delightful ways of experiencing the same story.
Interested in trying out graphic novels on audio? I promise you won't be disappointed! Here are a few of my favorites to get you started:
Hey Kiddo
By:  Jarrett J. Krosoczka
Narrated by:  Jarrett J. Krosoczka, Jeanne Birdsall, Richard Ferrone, Jenna Lamia
New Kid
By:  Jerry Craft
Narrated by:  Jesus Del Orden, Nile Bullock, Robin Miles, Guy Lockard, Peyton Lusk, Rebecca Soler,  Dan Bittner, Phoebe Strole, Marc Thompson
Class Act
By:  Jerry Craft
Narrated by:  Nile Bullock ,Jesus Del Orden, Guy Lockard, Marc Thompson, Peyton Lusk, Rebecca Soler, Dan Bittner, January LaVoy, Phoebe Strole, Jordan Cobb, A.J Beckles, Robin Miles, Ron Butler
Nimona
By:  ND Stevenson
Narrated by:  Rebecca Soler, Jonathan Davis, Marc Thompson
Max and the Midknights
By:  Lincoln Peirce
Narrated by:  Kristen DiMercurio, Marc Thompson, Christopher Gebauer, Fred Berman, Dan Bittner, Michael Crouch, Jonathan Davis, James Fouhey, Jim Frangione, January LaVoy
Twins
By:  Varian Johnson
Narrated by:  Ahnya O'Riordan, Grace Capeless, Mashari Bain, Malcolm Bowen, Antoinette Comer, Andre Blake, Armand Xavier Rufen-Blanchette
Allergic
By:  Megan Wagner Lloyd, Michelle Mee Nutter
Narrated by:  Priya Ayyar, Dan Bittner, Matt Braver, Maxwell Glick, Greta Jung, Katie Koster, Ray Lee, Kathleen McInerney, Ulka Simone Mohanty, Nneka Okafor
Roller Girl
By:  Victoria Jamieson
Narrated by:  Almarie Guerra, Kate Reinders, Tara Sands, Hillary Huber, Jorjeana Marie, Cassandra Morris, P.J. Ochlan, Adenrele Ojo, Georgette Perna, Bahni Turpin
The Sandman by Neil Gaiman
By:  Neil Gaiman, Dirk Maggs
Narrated by:  Riz Ahmed, Kat Dennings, Taron Egerton, Neil Gaiman, James McAvoy, Samantha Morton, Bebe Neuwirth, Andy Serkis, Michael Sheen